Our design library is a great resource if you plan on placing repeat orders.
Artwork vs. Designs
To better understand our Design Template Library, let's first distinguish designs from artwork. Artwork is a file you're planning to upload for print.Artwork becomes a Design once you select the print type, color information, placement, and dimensions for an item and add that item to a cart.
The same artwork can become multiple designs.
If you upload a logo to 2 products, one with a left chest placement and the other with center chest placement, you've created 2 designs (even if the color information you've selected is the same).
Saving designs
When you create a design, we automatically save that design, add it to your Design Template Library, and assign it a unique Design ID. This information can be recalled the next time you place an order with your design.
You can give your designs unique names by naming and saving them when placing an order: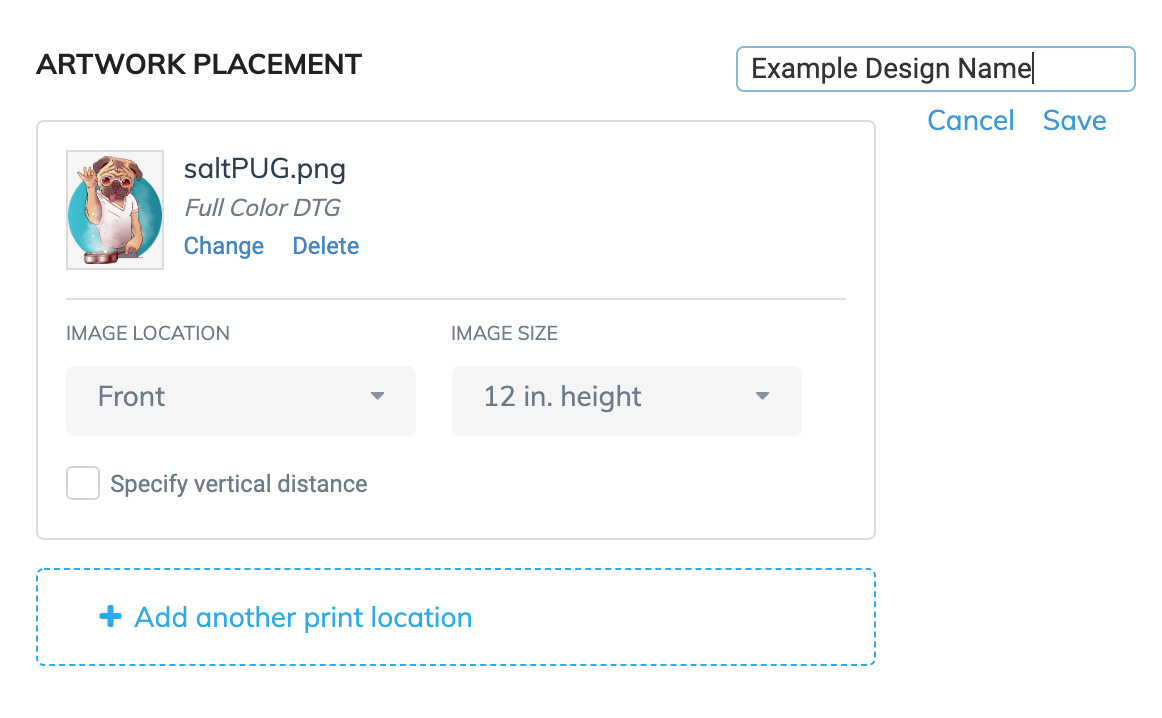 Next time you go to place an order requiring that design, you can select it when it's time to upload artwork. Here's how:
Select Add Design.
Select Saved Designs.


Enter the Design name or Design ID.
This will recall your previous design with the color information, size, and placement from the previous order.
Your Design Template Library
All designs you've used and/or saved will be added to your Design Template Library. Here, you can find the Design Name or Design ID you're looking for, highlight & copy, and paste under the Saved Designs tab when placing an order.
To access your Design Library, navigate to Designs > Design Template Library on your account dashboard.
To add a saved design to a new order using the Design ID:
Copy the Design ID in the Design Template Library.


Begin placing a new order, and select Add Design.
Paste the Design ID under Saved Designs.

Your design will populate with the same information as previously entered, including:
Color information
Size and dimensions
Placement