Our guide covers adding Scalable Press to your BrightSites powered by BrightStores, adding products, creating design IDS, enabling Vendor Push API calls, and much more.

Table of contents
What you'll need to get started:
Why add Scalable Press to BrightStores?
Automated order processing - no more order exports!
Single-invoice solution - no more purchase orders or supplier invoices
PromoStandards certified integration
Over 3600 products from top suppliers, including alphabroder, SanMar, and S&S
Enabling Vendor Push and Shipment API
To enable automatic order fulfillment for your BrightSites, you'll need to enable Vendor Order Push and Vendor Shipment API in the Vendors section of your BrightSites dashboard.
To enable Vendor Push and Shipment API for Scalable Press:
Navigate to Products & Categories > Vendors on your BrightSites dashboard.
Toggle Enabled, Vendor Order Push, and Vendor Shipments API ON (as seen below).


Working with design IDs
Design IDs encompass thread or PMS color(s), sizes, orientations, locations, and categories of products. Once a design ID is created, you'll be able to enable logos in BrightStores. When a customer places an order on one our your Bright Sites, the design IDs included for the products selected will communicate the appropriate customization type, color information, and location to Scalable Press through the Vendor Push feature.
When will you use design IDs in BrightStores?
Logos that require more than 1 color
Logos that are one color and do not require tone-on-tone
Note: Design IDs are specific to product types and locations. Even if your designs are the same, color, and orientation, you'll need to create a design ID for each product type and location.
Example: Company logo, white, 3.5" wide x 3 products
Hat (center), Polo (left chest), Backpack (front center) = 3 design IDs
In this example, the Hat (center) design ID can be used for all hats, beanies, etc. The Polo (left chest) design ID can be used for all left chest embroidery. The Backpack (front center) can be used for all bags.
Please note: Using design IDs incorrectly will result in failed orders.
To create design IDs for embroidery, there are two methods - single design ID creation and bulk design ID creation (tone on tone).
What you'll need to create design IDs:
| | |
| --- | --- |
| Customization type | File type |
| Embroidery | .dst files are required |
| Screenprint | .eps files recommended (.ai, .pdf) |
| DTG | .png (minimum 150 dpi) |
| Mugs | .png (minimum 150 dpi) |
| Posters | .png (minimum 150 dpi) |
For more information, review the Scalable Press Artwork Guide.
Tip: When creating design IDs for left/right chest, left/right sleeve, and yoke, choosing a basic t-shirt (3931 or 5000) is a safe bet. When creating design IDs for hats or bags, choose any hat or bag.
Remember: The goal is to create the design and save it. The category is important. The product is not.
Creating a single design ID
To create a single design ID:
Login to your Scalable Press account.
Click Place an order and select a product in the category for which you'd like to create your design ID. (Example: if you wish to create a design ID for left chest, select any apparel product without a pocket on the left chest).
Next, you'll Add Design.


Upload your file, select your thread or PMS colors (if applicable), and continue.
Note: DTG is full color so you will not have to choose any colors to create DTG designs.
Here is an example of an embroidery design in progress:


Once you've confirmed your colors, it's time to select your size and location.
Please note: for embroidery designs, your .dst file will dictate the size. You'll simply select a location. For all other designs, you will be responsible for selecting dimensions.
Here are examples of an embroidery design and DTG design in progress:


Notice, the IMAGE SIZE is fixed. When selecting your location, you will be prompted if the dimensions mapped in your .dst file exceed any of your max print areas. Please review our Embroidery Guide to identify max print areas per location.

Notice, for DTG (full color) you will have the ability to select the IMAGE SIZE.
Name your design. It's important to name your design so you can easily search and filter results in your design library.

Once you confirmed IMAGE LOCATION and IMAGE SIZE (if applicable), you'll need to enter a test quantity for any size to reveal the ADD TO CART button and save your design. Example: enter "1" in the column for Medium (M), as seen below.

Next, ADD TO CART. Your design is now saved.


All of your design IDs will be stored in your Design Template Library. You can find the link to your Design Template Library in the Main Navigation (Designs > Design Template Library).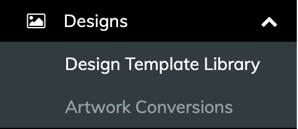 You can find the design ID on the left-hand side (highlighted below). This is the information you will need when generating logos in BrightStores.

Introduction to Artwork IDs
An artwork ID is a unique identification number we assign to a logo file. There is no specific color information include, unless the artwork is full color for DTG. For screenprint and embroidery, artwork IDs are assigned to .eps or .dst files (respectively).
What is the difference between a design ID and an artwork ID?
Design ID = artwork + color information + size + placement
Artwork ID = artwork
To find artwork IDs:
Navigate to Designs > Artwork Conversions
Click on the artwork and a slideout will appear on the right-hand side of your screen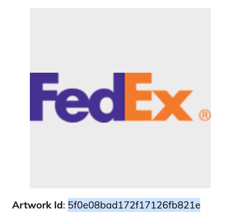 Bright Stores application
In Bright Stores, you will only use artwork IDs specifically for tone-on-tone designs.
What is tone-on-tone? A tone-on-tone design is one in which the thread or PMS color is matched as closely as possible to the color of the product being customized.
When a customer places an order, we need the artworkID, location, and product color to inform the Scalable Press API when the order transmitted.
To add tone-on-tone as a logo option:
Copy your artwork ID from Designs > Artwork Conversions.
Upload your .png to BrightStores and input logo name and price.
One of the following locations will need to be entered each time you create a tone-on-tone logo in BrightStores (i.e. artworkID|left-pocket ):
| | |
| --- | --- |
| Placement | Location |
| Left chest | left-pocket |
| Right chest | right-pocket |
| Center (hats & bags) | center |
| Left sleeve | left-sleeve |
| Right sleeve | right-sleeve |
When an order is placed using a logo including artworkID|location, the API will identify the product color in the order and automatically create a design with the thread color that most closely matches the product color.
Adding products
Important: Products assigned to Scalable Press (Vendor) must be included in the Scalable Press catalog. Please check your catalog against ours before assigning products to Scalable Press in BrightStores.
Important: When viewing products in BrightStores, it is important to select products with the PromoStandards designation before copying the product details. This will ensure all product data, including colors and size, will be accurately represented.
At this time, the only supported wholesalers are alphabroder, SanMar, and S&S.
To add products and assign design IDs:
Navigate to the Products & Categories > Product Copy feature and enter your product (style number or name).


Find the Promostandards version of the catalog to add new products.
Next, you can drop down a filtering option to find a particular style number in a given category. Filter through the search results to find the

PromoStandards

version of the product, as seen below:


Once you find the product(s) you're looking for you, simply drag and drop on the right-hand side of the product copy window. For more information about the product copy feature, please consult your BrightStores representative.
After you've selected all of your products and clicked Copy Product (bottom right), await the email notification confirming you're products have been loaded into the catalog. This can take several minutes.
Navigate to Products & Categories > Products to edit the products you'd like to assign to Scalable Press.


Update the Product Vendors field for each product to reflect Scalable Press. The field will be populated with the supplier of the product following the initial import - i.e. SanMar (PromoStandards). Please note, to enable the Vendor Push API calls, you must update the vendor to Scalable Press.


Scalable Press (PromoStandards) ➡️ Scalable Press





Creating logos and assigning Design IDs/Artwork IDs
Please note: in order to utilize the Scalable Press integration for fulfillment, you must upload and create logos on the Bright Sites platform.
Load logos to BrightStores using the design IDs for multi-color/universal designs and artworkID|location for tone-on-tone designs. Navigate to logo management > Add logo. After uploading the corresponding PNG or JPG, the design ID or artworkID|location can be input in supplier ID field. Name the logo whatever you would like and assign a price here, as well. Here's an example of what a logo should look like:



Please note: For tone-on-tone logos, you will use 1 artwork ID + location for each available tone-on-tone location (artworkID | location). Here's an example of a logo calling for tone-on-tone on the left chest:


Note: You do not need to use the virtual mockup tool or enable logo locations. Alternatively, you can upload your own mockups for a more polished look.
Shipping confirmation
Once an order ships, customers will receive an email similar to the following:
Ready to get started?
Submit a request for more information.